Total Recovery
For Total Recovery of Process Dragout
Rinse water and dragout counterflow through several rinses to the process tank. The excess water is removed from the process solution by the EVAPORATIVE TANK™. Heat for evaporation is taken from the process. A level control and solenoid valve can control the water flow into Rinse 3. This level control and air lift pump are available from Poly Products Inc.
Total Recovery, Cold Process

An alternative heating method if evaporation rates are limited by low temperature processes. Rinse water and dragout are collected in the new heated tank; concentrated dragout is returned to the process tank as needed. (The new tank can also concentrate process solution for added room in the process tank.)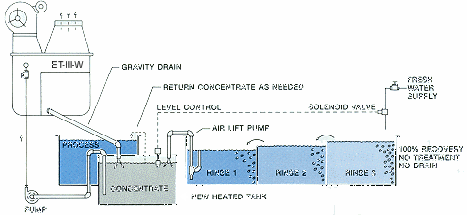 Near Total Recovery
A very high recovery percentage can be achieved with little evaporation. This diagram illustrates the tank layout for economical, partial recovery.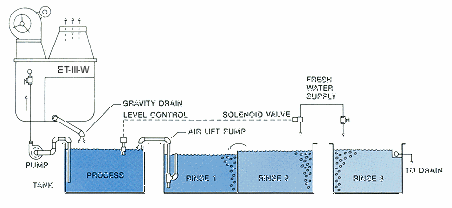 Evaporation
gph

Recovery rinses

1

2

3

5
10
20

83%
90.9
95.2
96.7%
99.1
99.8
99.3%
99.9+
99.9+

This table shows recovery percentages with low evaporation rates, and is based on 1 GPH dragout.
Any solution with valuable content trapped in water could be recovered by evaporating the water away and collecting the valuable product. The above photo and diagrams are sample guidelines for achieving this goal.
Please call or e-mail for a detailed proposal tailored for your application..
Phone: (216) 391-7659
eMail: info@poly-products.com