Evaporative Tank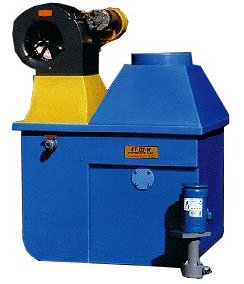 ET-III-W Evaporative Tank™
U.S. Patent No. 4790904
The Poly Products Evaporative Tank is available in two models, the ET-II-W and the ET-III-W.  Each of these are ideally suited for dewatering spent solutions or wastewater that may have a high solids content. The evaporation mechanism eliminates any small, entrapping passages. Up AND down-draft spraying at very high flow rates produces high evaporation at moderate temperatures.
Those looking for the greatest evaporation rates at a given temperature will choose the Evaporative Tank-III-W for its high efficiency for any application.
A specialty use for the Evaporative Tank-III-W is the dewatering of decorative and hard chrome. The Evaporative Tank-III-W can be used directly on the plating tank to remove rinse spray water and fume scrubber water.
Dewatering of waste solutions (cutting oils, printing ink & paint washwater, spent chemical solutions, parts cleaning, DI & RO regeneration waste, air scrubber waste, air compressor condensation, ink and dyes) save the users of Evaporative Tank-III-W evaporators thousands of dollars in disposal costs. Where the need is for only 3 to 4 gallons of evaporation per hour, no added heat is required. Heat for evaporation is taken from the room.
See the Evaporative Tank Companion - a condenser that dries the air and separates the water, to be reused in the process.
Applications and uses:
Waste Water Treatment
Industrial Evaporation
Chemical Evaporation
Oily Water Evaporation
Plating
Aggresive Solutions
Articles of Interest:
Recovery/Recycling Methods for Metal Finishers: Article From: Products Finishing, Stephen R. Schulte, P.E. REM from Hixson Inc. A guide to lowering pollution and recovering valuable process constituents.
Case Study : The Beauty of a Closed Loop: The customer was using a "dead rinse" as well as two additional rinse tanks. We needed to find a way to extend the life of the rinse tanks and to reduce the amount of chrome being introduced to the system.
Rinsing for Recovery, Efficiency, and Better Work Practical and proven rinsing techniques that ensure high quality standards, minimize the amount of water necessary, and provide for recovery of most, if not all, of the process dragout. 
Rinsing with Less Water: Taking a little time to study your rinsing needs, and devising ways to minimize water usage will pay great dividends.
Can I Evaporate My Hazardous Waste? If you are not sure if you could or should evaporate your hazardous waste, take some time to review this article for answers from the Ohio EPA.
Let's start at the beginning. The ET-III-W™ evaporator has become the choice evaporator for nearly every application throughout America and around the world.