How the EVAPORATIVE TANK ™ Works
The EVAPORATIVE TANK™ is available in two models: The ET-II-W and ET-III-W.  Both are ideally suited for dewatering spent solutions or wastewaters that may have a high solids content.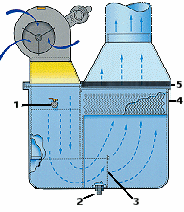 Ball Valve
Drain
Deflector Panel
Mist Eliminator
Mesh Pad
Pumped solution is circulated at a high flow rate from your process tank, heated tank or reservoir up to the ET-II-W or ET-III-W and is drained back by gravity to your tank, but returning with less water. 
In the evaporator, the solution is sprayed into large droplets.  These droplets provide a tremendous amount of surface area that will come in direct contact with the incoming air.  Heated solutions will in turn heat the air; warm air can hold more water volume then cool air.  The warmer the solution, the warmer the air, the better your evaporation rate.
The humid air is then ducted to the outdoors, or into the Companion Condenser if so equipped (see "condenser" section of web site).  Heat for evaporation is taken from the solution pumped through the evaporator (about 9,000 BTU per gallon per hour of evaporation).
The proprietary "triple-effect" of the Mist Eliminator reduces droplet emissions to a very low level by impinging mist out of the airstream in three sequential tight bends in the air path.  The impinged droplets fall back into the Evaporator so that the clean air can continue out through the exhaust.  The Poly Products evaporators are EPA compliant with only the standard Mist Eliminator, but an optional AirScrubber™ (Mesh Pad) can be installed inside the EVAPORATIVE TANK™ at any time to further reduce emissions by another 98% to meet the most stringent regulations.
The Poly Products model ET-III-W is the most versatile evaporator in existence; it can evaporate in a clean laboratory setting to a harsh industrial environment.  The ET-III-W can evaporate at room temperatures with no added heat at a evaporation rate of *3-5 GPH or as high as *60 GPH at our maximum temperature of 160 deg F
*Evaporation rates are based on water; rates will vary depending on solids content and viscosity of the solution.  Humidity at lower temperatures will have a greater influence on evaporation rates then at higher temperatures.
Articles of Interest:
Rinsing for Recovery, Efficiency, and Better Work Practical and proven rinsing techniques that ensure high quality standards, minimize the amount of water necessary, and provide for recovery of most, if not all, of the process dragout. 
Rinsing with Less Water: Taking a little time to study your rinsing needs, and devising ways to minimize water usage will pay great dividends.
10 Minutes to Better Rinsing: In the beginning, the answer to good rinsing was to simply "open the valve all the way". Take 10 minutes and learn how to improve rinsing while reducing water consumption as much as 90%…