EVAPORATIVE TANK™ BENEFITS:
Waste Water Minimization
The Poly Products Atmospheric Evaporator will reduce waste water volumes easily at ambient to moderately low temperatures making Poly Products the safest way evaporate your waste water.  Large tanker truck volumes can be reduced to just a few drums, once evaporated.  This is a significant savings in your haul off costs.  The ET-III-W has large wide open passageways making Poly Products the ideal choice for minimizing your waste volumes.  When a full scale waste treatment system seams to be out of reach or just to large for your needs, think Poly Products for Evaporation.
Non-Contaminating Recovery
Natural (Atmospheric) evaporation uses no resins, membranes or electrolytic plate-out cells that require high maintenance and replacement costs.  Since no chemistry is added or removed, your process remains unchanged, and that make the Poly Products evaporator ideal for recovery and recycling applications.
Simple and Easy to Use
Control for the ET-III-W Evaporator can be as easy as an ON/OFF breaker box on the wall.  Even the fully automated Heated Tank Systems are user friendly; just press the start button and let the control panel monitor temperature and level control and notify you when the cycle is complete.
Low Maintenance
The EVAPORATIVE TANK ™ uses only two moving parts - a pump and low cost blower.  All molded polyethylene components are molded as one piece with NO WELDED SEAMS for solution security.  The tank thickness is approximately 1/4" to 3/8".  Other materials used are high-temp CPCV, polypropylene or Teflon, PVC, EPDM or Viton seals, and stainless or Titanium fasteners.  The POLY PRODUCTS EVAPORATIVE TANK™ is the ONLY atmospheric evaporator with a lifetime no-leak warranty.
Low Cost
Totaling all costs: initial purchase, energy, maintenance - the POLY PRODUCTS EVAPORATIVE TANK ™ is the most cost effective in recovering 100% of the chemicals (dragout) from your rinse water, or in reducing the volume of spent solution and wastewater.  When using natural gas for heat, the cost of evaporation is about $.06 per gallon.
APPLICATIONS
If a bath can be air agitated without causing excessive foam, it should be well suited to this method of recovery or reduction. High cyanide baths and nickels are examples of solutions that should be tested for foaming. A sample can be shaken in a glass jar to see if the foam disappears quickly.
Evaporation eliminates water and leaves all the plating chemicals and tap water impurities in the process tank. If your application is a recovery for reuse process, your recovered bath may need to be filtered or you may want to consider using D.I. or R.O. water in the rinsing chain. If your application is a waste water minimization process, you will accumulate solids that can be collected or filtered with a filter press for further dewatering for solids haul off.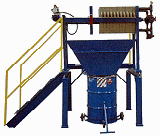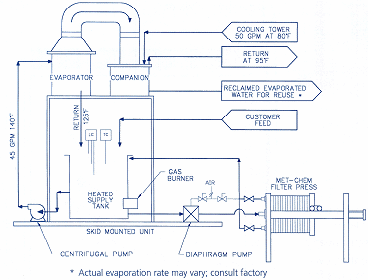 Met-Chem Filter Press for solids removal as needed. Eliminates Draining and shoveling.
Plating

Machining

DI & RO regeneration waste

Recover Dragout

Remove Water from Lubricants

Evaporate waste water.


Reduce Waste Volume

Condense for reuse.

Anodizing

Parts Cleaning

General

Chemical Recovery

Dewater Spent Wash Water
and waste water.

Remove Water from ANY
Waste Water Solution

Spent Solution Reduction
THE "MAGIC" OF COUNTERFLOW RINSING
The diagram at left illustrates the principles of counterflow rinsing in a plating recovery application.   As the ladle representing dragout is moved from tank #1 to tank #2, the dragout is diluted by a ratio of 10 to 1. Each successive tank further increases this dilution ratio by 10 to 1. At tank #7 the dilution ration is 10 million to 1.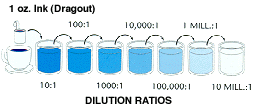 HOW MUCH RINSE WATER DO YOU NEED?
Counterflow rinsing reduces rinse-flow requirements making dragout recovery practical and inexpensive. The table indicates the water needed to produce a 5,000:1 ratio when using most plating solutions, or 20,000;1 when using chromic acid.
Dragout Concentration

GPH of Rinse Water Needed for Each Gallon or Dragout*

One Rinse

Counterflowing Rinses

2

3

4

5

Most Plating Solutions

5,000

71

17

8

5

Chrome
40 oz./gal.

20,000

141

27

12

7

*For 2 GPH dragout, multiply by two, for 1/2 GPH multiply by .5, etc. (flow rates are rounded to the nearest gallon)