NO MORE HOLES ....
What it does
When installed with an EVAPORATIVE TANK™, the ET-Companion Condenser ™
removes water from the evaporator's air exhaust and returns it in the form of distilled water for reuse. The dry air is returned to the EVAPORATIVE TANK™ to work again.
Benefits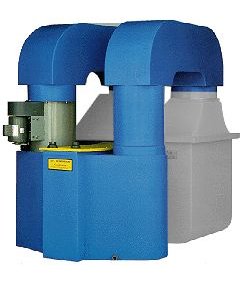 ET-Companion Condenser
No more holes in your roof for exhaust ducting. No need for permits from air quality people; this is a completely closed-loop air system.
Recovers all water that is evaporated. Today's regulations require recovery of resources wherever possible. It makes economic sense, and removes the need for permits. Reuse your rinse water.
Eliminates the air make-up problem. The same air is used over and over again. No need to heat or air condition replacement air - saving thousands of dollars.
Articles of Interest:
Meet the Condenser! The ET-III-W EVAPORATIVE TANK  will evaporate water into the air stream that is passing though the unit and produce humid air, very much like a clothes-dryer at home. 
Dimensions:

Base Unit with Fan
37" W, 54" L, 55"
Height With Connection Ducts
76"

Weights:

Dry with Ducts
400 lbs.
Crated with Ducts
450 lbs.

Fan H.P.:

1-1/2

Fan Current:

115 V.A.C
13 AMPS
230,3Ø
3.75
460,3Ø
1.88

Cooling Water:

Maximum Flow
58 gpm
Inlet Temperature
80F or cooler
Pressure Drop
4.8 ft.
Water Connections
2" M.P.T.

Condenser Coil:

Copper Coils and aluminum fins have a ElectroFin coating
that is resistent to practically all corrosive atmospheres
WARRANTY:
This equipment is warranted by Poly Products Inc., to the original user for one year following the date of purchase against defects in materials or workmanship when installed and operated according to our instructions and limitations , and when used with approved solutions. We will, at our option, repair or replace any part or assembly proven to be defective when it is returned prepaid to our plant. fans and metal parts (i.e. motors, etc.) are not warranted against corrosion. This warranty is in lieu of any others. We assume no responsibility for consequential damages.