Poly Products Corro-Fan™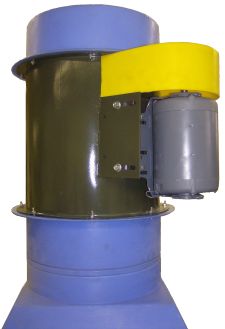 Poly Products is proud to introduce the Poly Products Corro-Fan™. Poly Products has used this fan most commonly as the air mover of the Companion Condenser™., but it has found its own place as a premier in line Tube Axial Fan for any application where corrosive air needs to be moved.
The Poly Products Corro-Fan™ is coated with a chemically Robust two part Halar® Coating (ethylene chlorotrifluoroethylene),. The Halar® Coating on the Poly Products Corro-Fan™ is extremely resistant to a wide range of chemistries at temperatures from well below zero up to 200°F, more than adequate for the max temperature of the Poly Products applications of only 160°F with room to spare for the harsh environment of your application.
The Heavy Duty bearing assembly is housed in a shelter sealed by a liquid Viton Caulk. This will isolate the bearings for the harsh airstream. We also offer an optional positive air purge to push clean safe air into the bearing housing, thereby pushing any corrosive air out of the housing to further protect the bearings.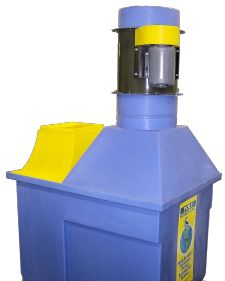 Specifications:
Belt Drive
16" blade dia. (6 blades)
Can be mounted Vertical or Horizontally
Over all height: 28-5/16" without plastic tube adaptors.
Over all housing Dia. With mount flange: 18-3/4"
Inlet dia. 16-3/32"
Outlet dia. 16-3/32"
Bolt Circle Dia: 17-1/2"
Motor is 1-1/2 HP 480 volt three Phase 60 Hz (Other motors available, including 50Hz)